Happy owners of bespoke hats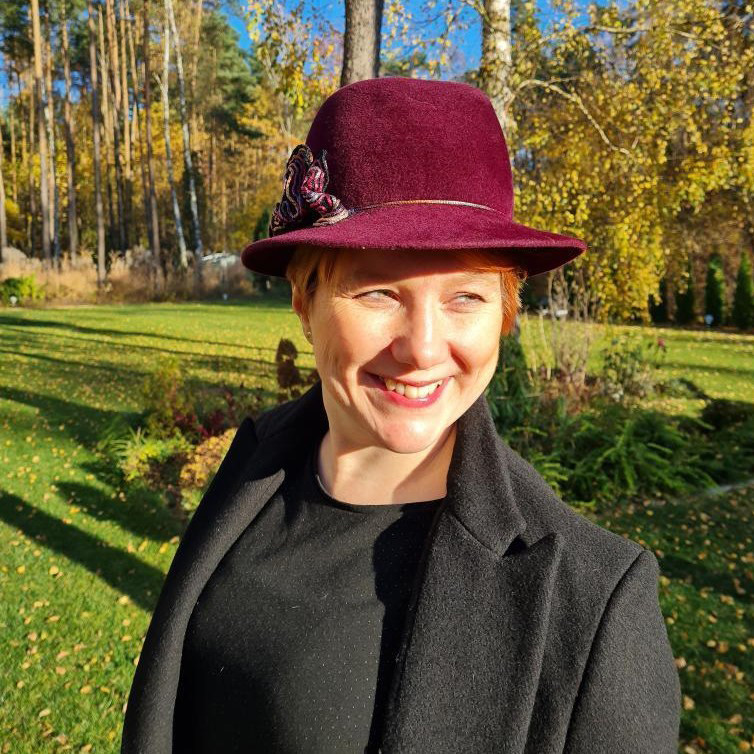 One of My Own
When I first saw Fusanna's designs, I knew immediately I just had to have one of my own! Working with her was a real pleasure. I find it hard to decide on hats and glasses, but Fusanna's confidence and expertise made it easy. She helped me pick a color that would go well with my hair and eyes, and a form that would match the shape of my face. As you can see, I'm very happy with the result!
Timeless Style
I own a sinamay white and blue fedora with a burgundy ribbon designed by Fusanna. It has this awesome old-school silhouette and fits me great, despite my large head. It's very well made and all the stitching and the materials down to the lining are very high quality. I'm really happy with my purchase, would definitely recommend!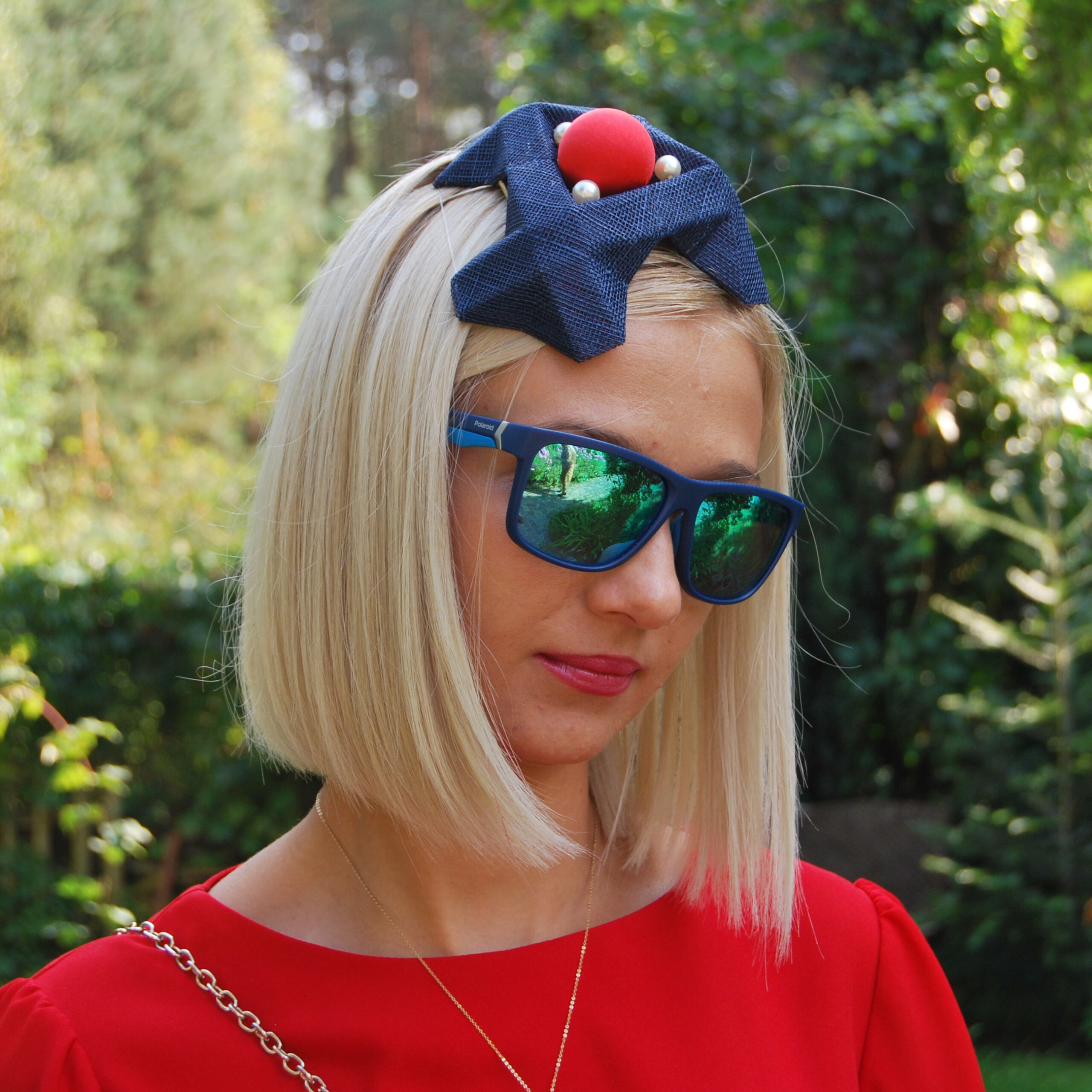 A Real Dazzler
This attractor wears itself like a charm. It's light and comfortable. It's a real dazzler – wherever I go people tell me it's great and ask me who designed it.
And then I say – Fusanna!
Simply Essential
I've never thought of myself as a hat person but trying on a Fusanna made me reevaluate that sentiment. When I put on that black fedora, it didn't feel like me – at first. Then I took another look in the mirror. And then another. And then I realized I really like what I'm seeing. Now I can hardly leave home without a hat!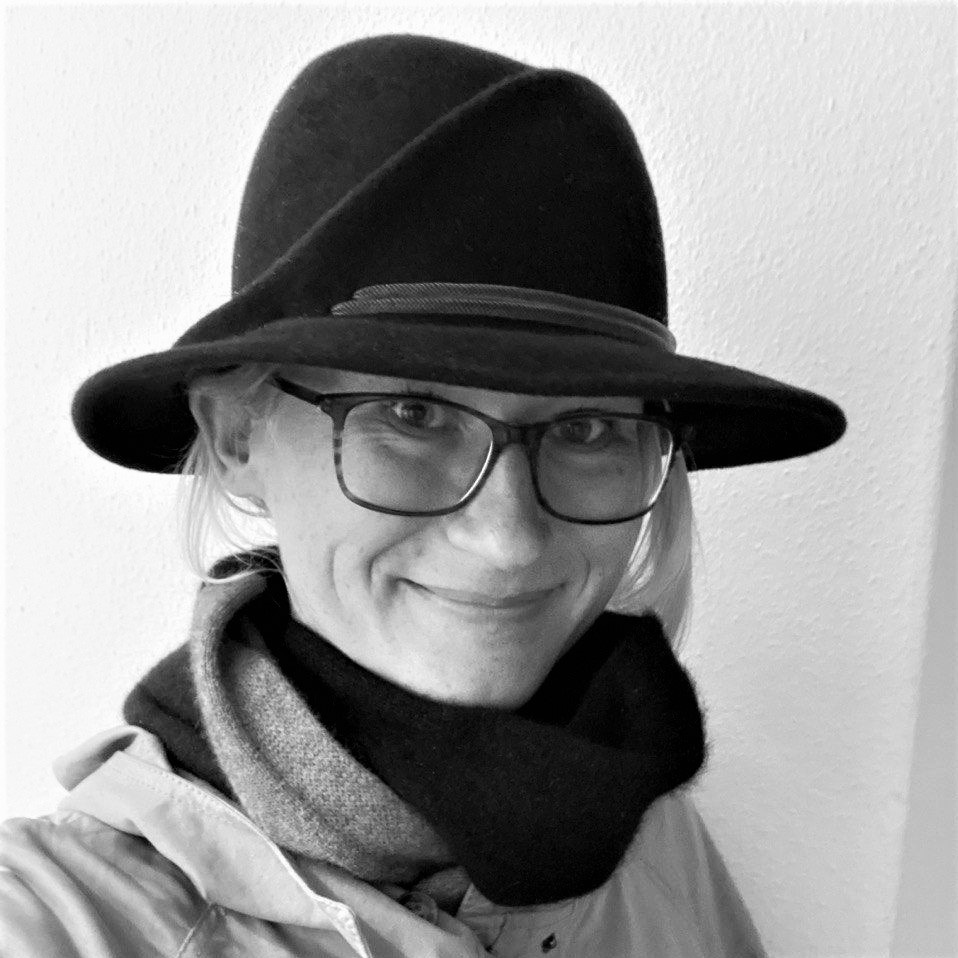 I love my hat!
It feels like it's made just for me, my character, and my style. And the best thing is that I didn't know exactly what kind of hat I wanted – Fusanna knew better than I did.
The result was beyond my expectations.
If you want a unique, handmade hat that was made with love and passion for details, then you've found the right place and the right person.
Gentleman-Fascinator
Creating something tailored to a person as demanding as me was not an easy task. It was supposed to be modest, but memorable; match the outfit, but leave space for use in another context.
Creativity by Fusanna did not disappoint – just look at my fascinator! Ever since I've had it, this satisfied smile has become inseparable from my gentleman-fascinator.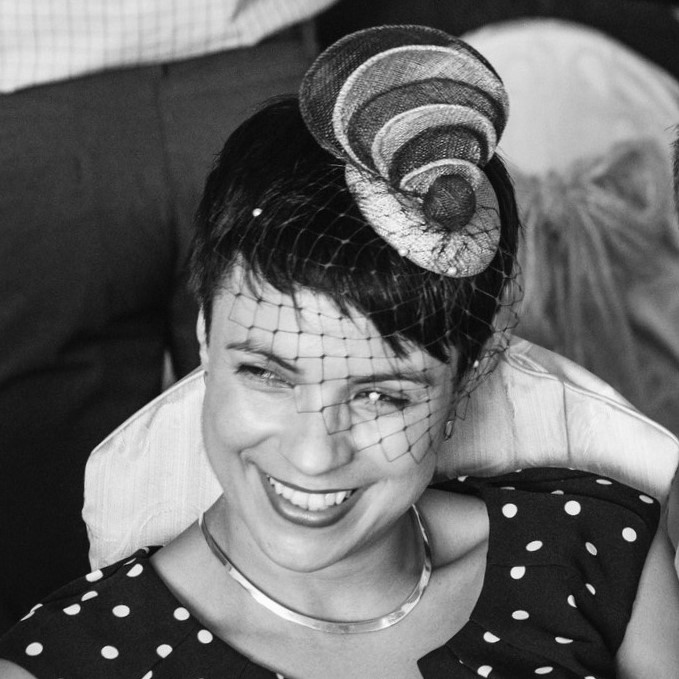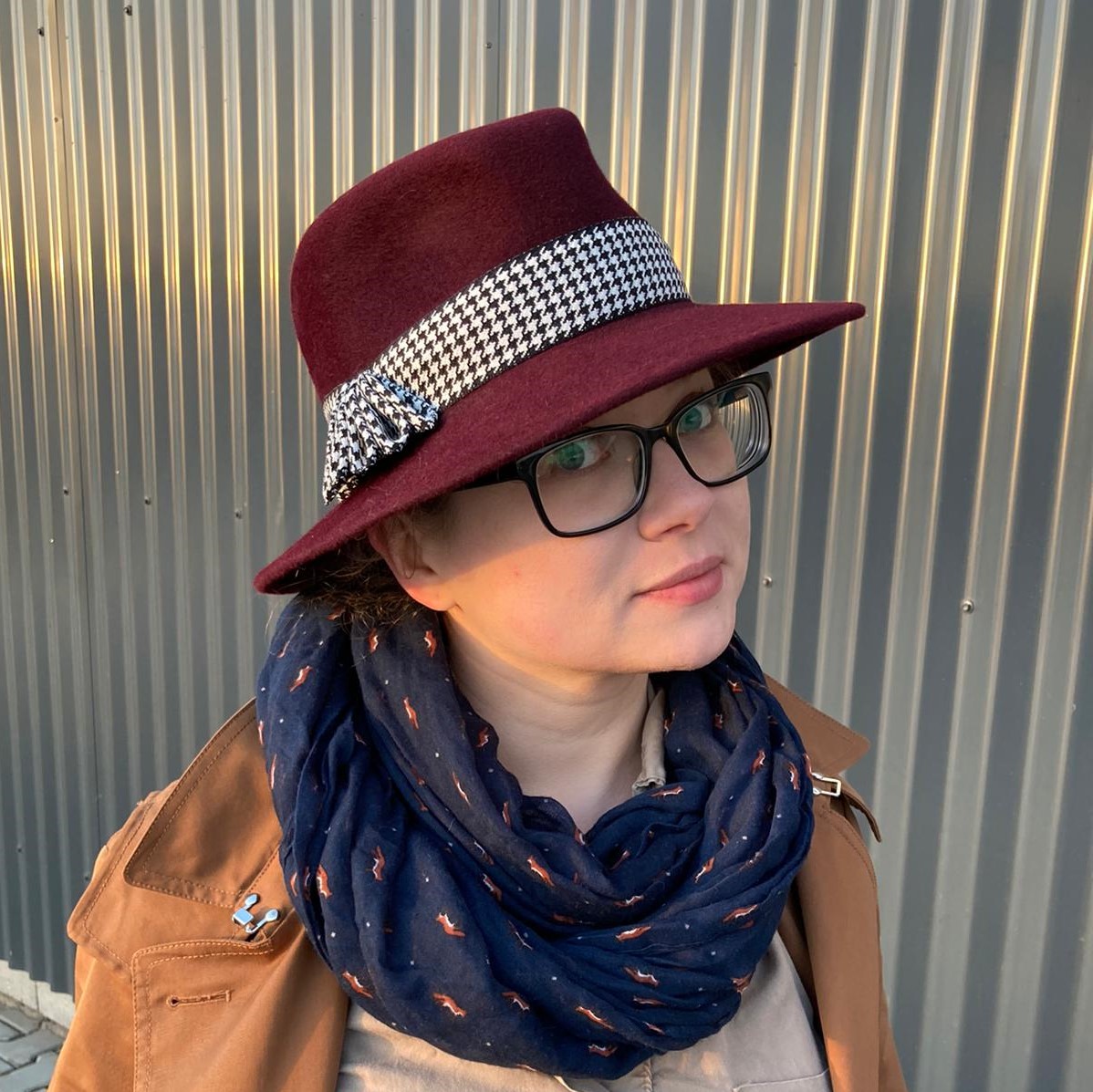 Smart Casual
My burgundy fedora made by Fusanna helped me get that finishing touch to my style. In the past, I used to feel uncomfortable wearing hats, but this one… it looks amazing and it feels even better!
I'm really impressed with the hat's quality and Fusanna's commitment to the smallest details of this masterpiece. Being the professional that she is, she quickly pointed me towards a model that would suit me best.
This fedora is now an integral part of my everyday smart casual outfit.
Feeling Unique
In a time of fast fashion, it's wonderful to have a hat that was made just for me. With a personal approach, finish and incredible attention to detail. When I put on my Fusanna hat, I feel unique.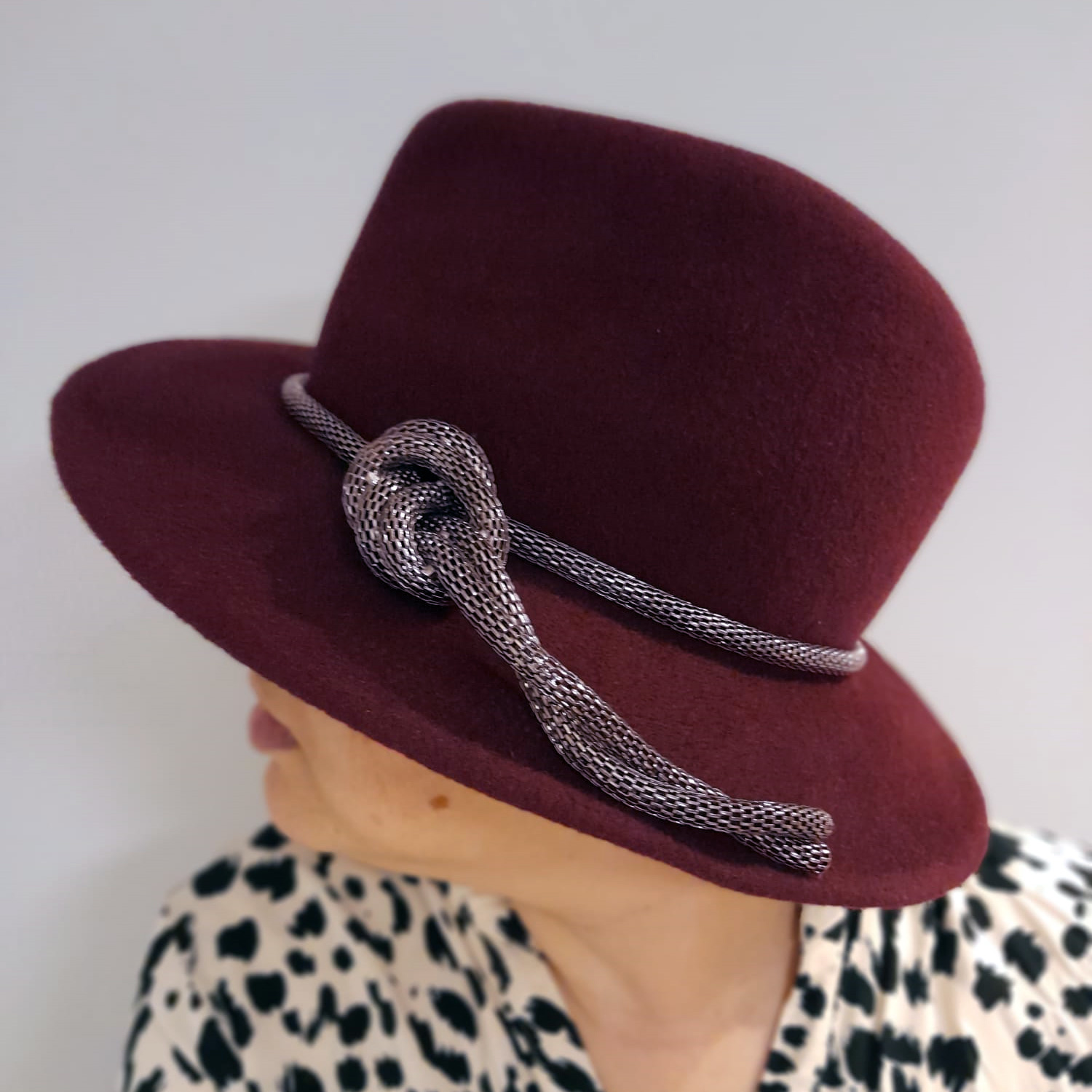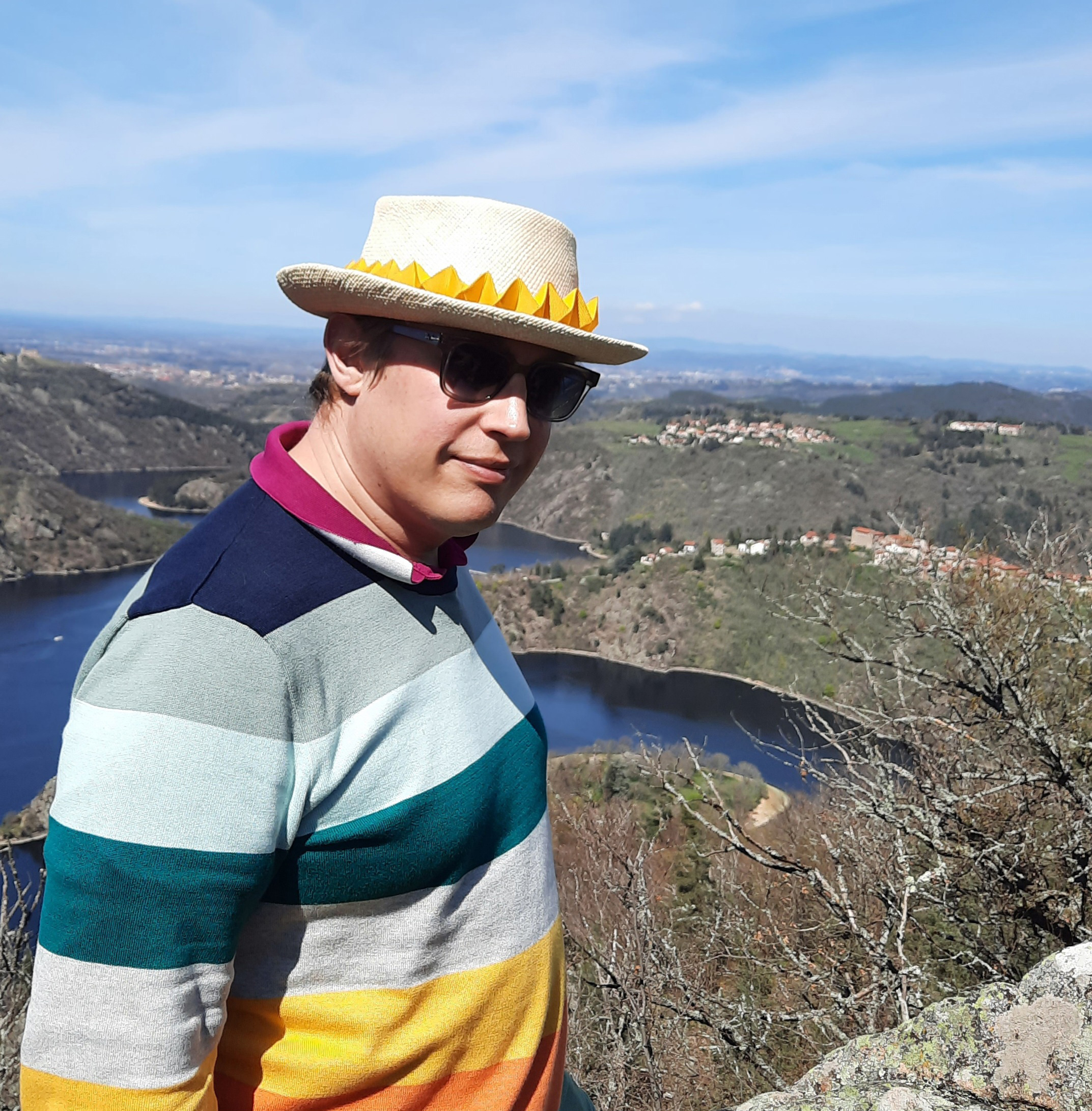 Durable and Imaginative
I wanted a no-nonsense straw hat to protect myself from the occasionally harsh summer sun. I tried a bunch of disposable 20 euro hats but they looked like everyone else and would sometimes come apart after a few weeks of moderate use.
I was ready to invest in something more durable and ideally – more imaginative. That's when I discovered Fusanna. She had the perfect combination of handmade quality with an original style. Being able to customize my hat is the cherry on top of the cake.
Chic Sailing
When you hear "hat," you think elegance, chic. I'm a woman who values comfort and functionality above all. So it will come as no surprise that I wanted my personalized hat to have these two features. It had to protect me from the sun and the wind, and provide comfort in all circumstances, especially when sailing.
Turned out my hat is more than pragmatism; it is uniqueness, elegance and class. No wonder, it was made by Fusanna, a master of her craft and a fairy of form.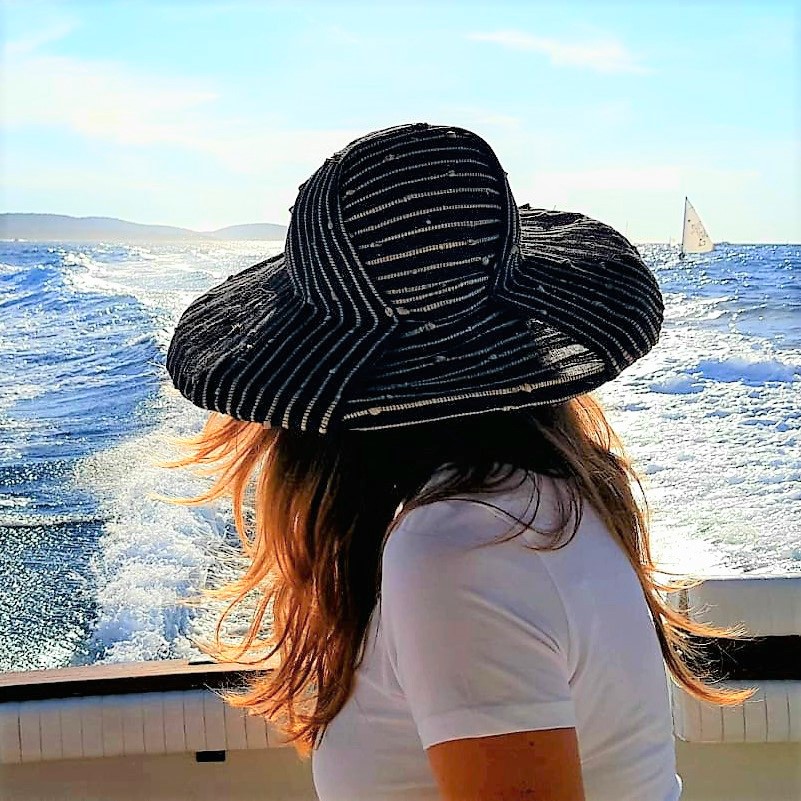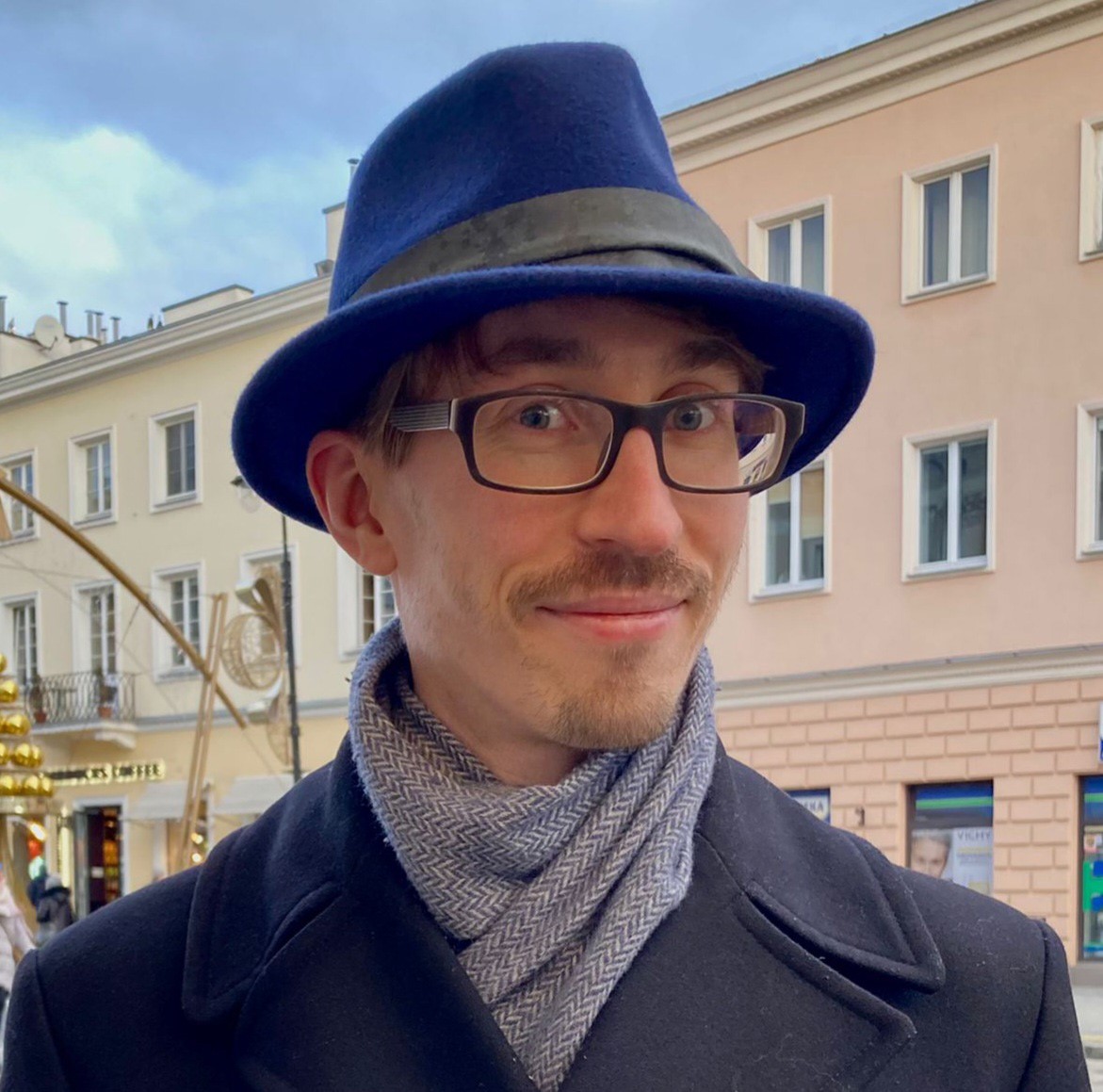 Much More Pleasant
Fusanna, based on my vague vision and loose inspirations, created a hat that hit the spot. I enjoy the details: the vintage 70s silk lining, the signature origami ribbon, and the perfect quality felt. My winter walks are now much more pleasant.
In Wonderland
A great hat, the circumference of which can be adjusted to the growing head of a child. The large brim provided effective protection against the sun, without limiting the field of vision. In addition, the hat is riversible, which my daughter really liked.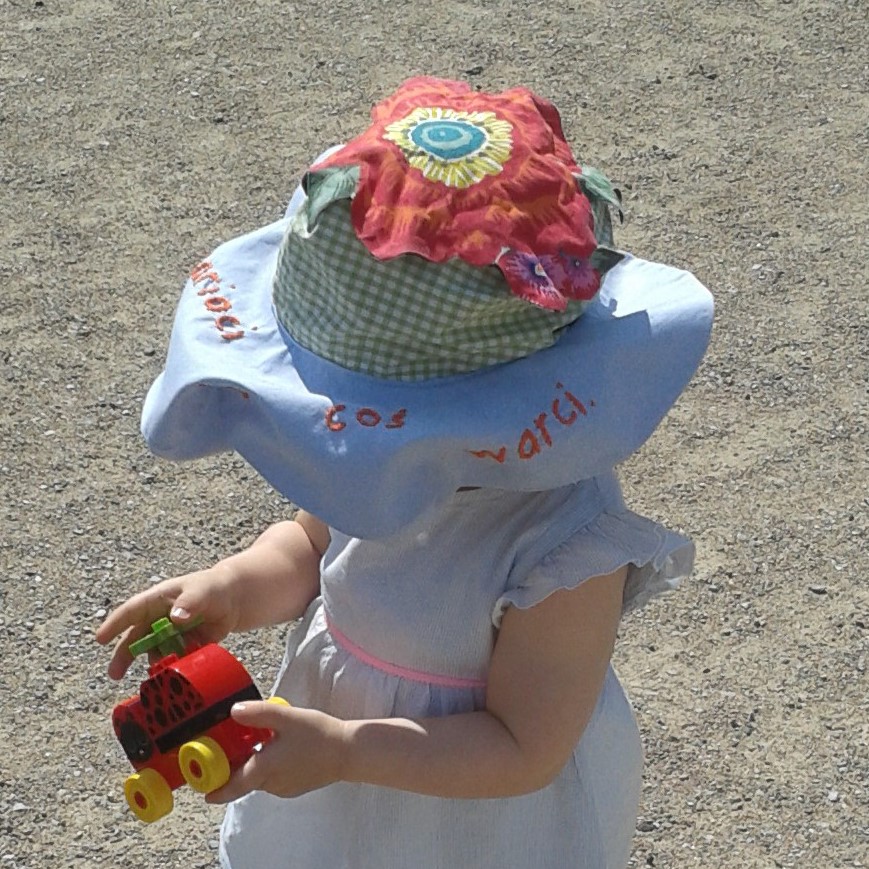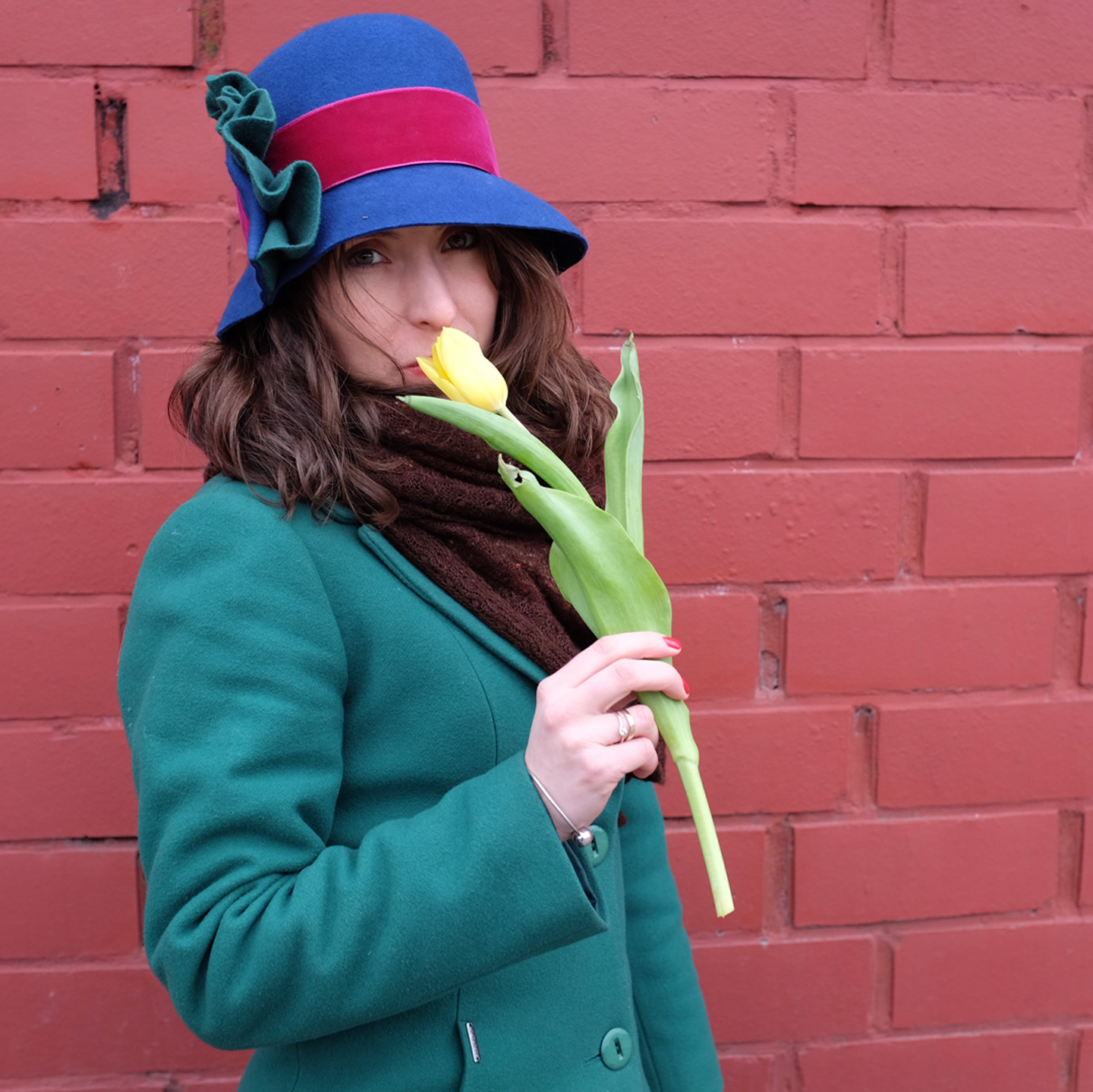 Beautiful Nostalgia
I wanted a hat that would match my coat and harken back to the 20s look I fell in love with watching a tv show.
Fusanna took my references, passed them through her filter, made it look classy and modern all at the same time, and put it on my head.

When I wear this hat, I feel like a queen. I especially appreciate the  style and the quality of craftsmanship.
Fuzzy and Warm
Warm and elegant – I can finally look good in a winter coat without freezing my ears.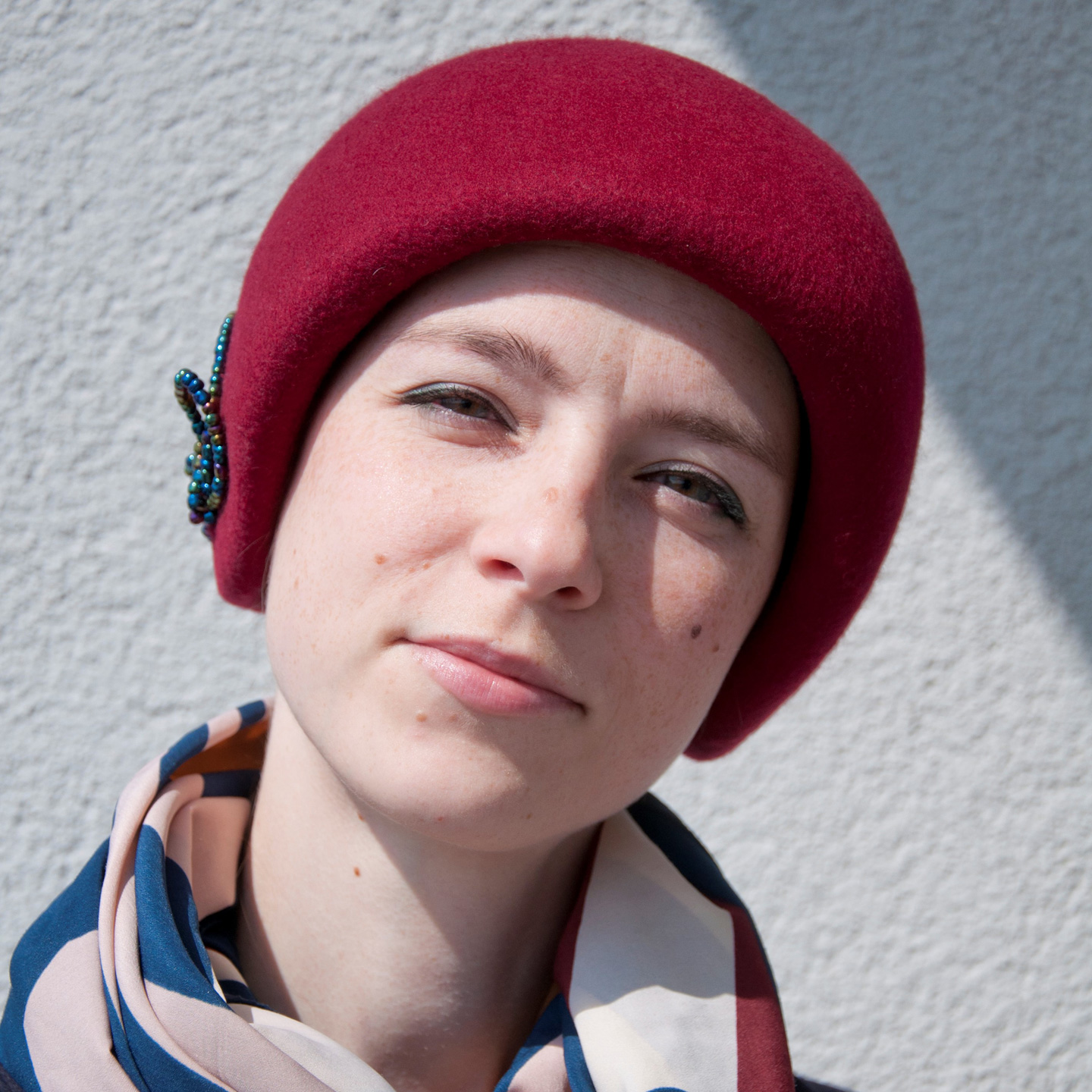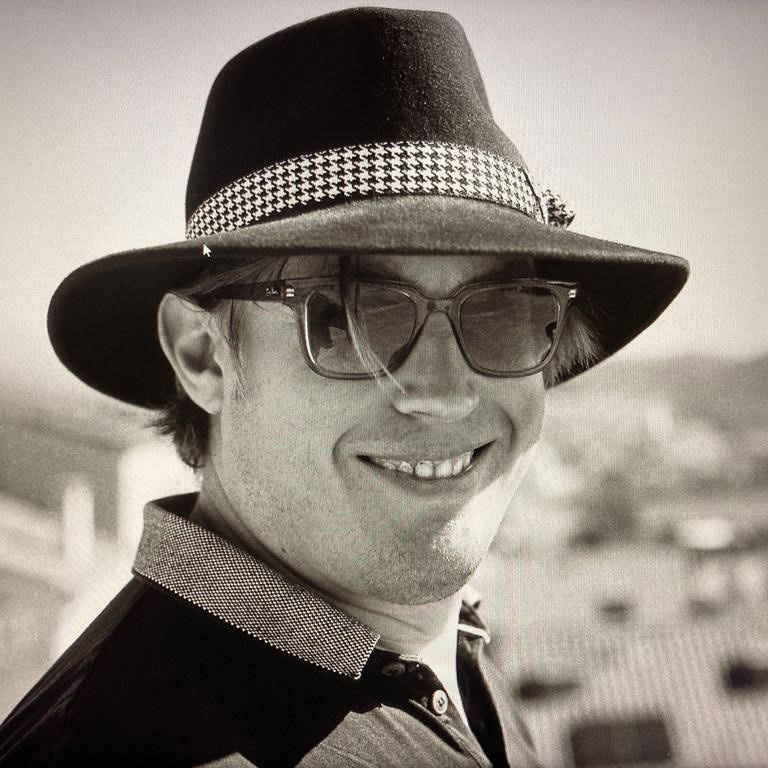 The Good Kind
Fusanna is the kind of designer who listens to what you want, then amplifies it, enhances it, and makes it cooler, smoother and more stylish. She's the kind of designer who never compromises quality, and who strives to make each of her hats unique. The kind who is relentless and passionate about her work.
In other words – the good kind.
New Dior?
It is important to me to support local artists and craftspeople. I keep thinking that big names like Chanel or Dior would have never had a chance to get big, if not for people who took a chance on them before it was cool. I'd hate to pass on the new Dior, so I ordered a hat from Fusanna.
"I'm a reasonable person" I said – "Give me something reasonable". She did better than that. She gave me a reasonable hat with a bunch of cool little details that made me feel special. I think she's got what it takes to get big.